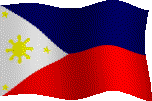 Filipino Community
in Kuala Lumpur, Malaysia
Homepage
Launched : April 5,1998


Mabuhay! This page is provided for the
Filipino Community in Malaysia
to exchange addresses and other information.

The description of my page is:
Filipino Community in Malaysia Homepage:
a page for Filipinos visiting or residing in Malaysia to keep in touch with
the latest up-dates, activities, plans,etc.
Page hits.....so far

This page is under construction.

Email Sally Cuenca-Sta. Maria with suggestions, additional email addresses, etc.
Click here to view the author's family picture!


---
Please Sign the Guestbook!
Let's introduce ourselves (our email address, family members,interests, etc..). For Filipinos who are residing elsewhere, we welcome your acquaintance.
It will help us add to this page.
(Click below to sign or view..it's working now)
---
MALFIL Association - Kuala Lumpur, Malaysia

Malfil consists of Filipinos married to Malaysians or foreigners residing in Malaysia. Malfil is celebrating it's 15th anniversary with a dinner bash on April 25 at 7 PM at the Holiday Villa, Subang. A Cultural show will be performed by the talented members. There will be a lucky draw and raffle tickets will be sold. Interested parties who wish to purchase tickets can contact Malfil's President Juliet Chin at 2530818 or Vice-president Bing Lee at 7036467.
---
Asean Ladies Circle

The Asean Ladies Circle or ALC consists of ladies from the Asean region who are residing in Malaysia. They are mostly attached to the Asean Embassies and have monthly affairs hosted alternatively by the Asean groups of Malaysia, Philippines, Singapore, Malaysia, & Thailand.
---
MAHJONG Gang - Filipina's favorite pasttime

Yes, if you're a true blue pinay and play mahjong, then you'll enjoy these ladies' company in their regular session of mahjong. The "bisaklat" mahjong girls consists of Bing, Lea, Evelyn, Malou, Corro, Peachy, Joji, Lani, Elena, "Manay", Ging, and yours truly. If you're interested in joining our friendly games, contact Bing at 7036467. As the saying goes...............the more the merrier!!!!

---
Check out the bigger than life Map of the Philippines!!!

Click here to view the Map of the Philippines


---
Want to do a Crossword Puzzle? You can print it out

or do it on-line. Have fun!!

Daily Crossword Puzzle
---
Want to read the Philippine Newspapers? Just click on
any of the below links:

Business World - Manila
Manila Bulletin - Manila
Manila Times - Manila
Philippines Daily Inquirer - Manila
Philippines Star - Manila
Sunstar Daily - Cebu
The Freeman - Cebu
The Independent Post - Cebu
Visayan Daily Star - Dumaguete City
The Filipino Express Online - New Jersey
The Balita L - USA

Check this out :

Dawn Zulueta's Homepage- Great photo coverage of Pinoy Social Events


---
Thanks for dropping by and hope you return to check up the
latest additions, activities, etc. Have a great day!!!
---
Sign the Guestbook | View the Guestbook | Back to Homepage