Welcome to Net2Phone - Malaysia

---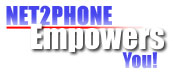 .. to place a call from your PC to any telephone in the world. Your saving can be as high as 95% compared to phone company rates, because your call is being carried over the Internet. Calls to most U.S.A (800) and (888) numbers are free.


Click here for additional Net2Phone General Information.

Yes, Net2Phone allows you to call from your computer to anyone overseas at their normal telephone number. And the rates are fantastic......calls to USA from anywhere in the world will cost only US 10 cents/per min (off peak hours) & US 15 cents (peak hours). Calls to Australia, Canada, UK/England, France, Germany, Netherlands/Holland, Norway, Puerto Rico, Sweden, Denmark, Virgin Islands during any time of the day costs only US 10 cents/min, Denmark for US 12 cents per minute, New Zealand US 15 cents per minute,............just to name a few.



Click here to view all of Net2Phone rates.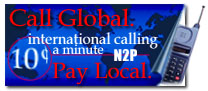 Net2Phone membolehkan anda membuat pangillan dari komputer peribadi anda (PC), ka sebarang telefon di dunia. Oleh sebab pangillan anda di-salurkan malalui internet. Anda mungkin dapat berjimat sahingga 95 peratus berbanding dengan kadar yang di kenakan oleh syarikat telefon. Pangillan ka Amerika Syarikat nombor (800) dan (888) adalah percuma.



Click Picture below to read Press Releases of Net2Phone
Click Picture below for FREE Net2Phone Download Software

Download Net2Phone Software for free. You will be given instructions on how to download and install Net2Phone to your computer. Remember, you need to have computer speakers to listen and a computer microphone to talk. After the setup of Net2Phone in your computer follow the instructions to "Register" an account with Net2Phone for FREE. You won't have any Account Balance to use but simply dial 90 or 1-800 USA numbers for FREE to test Net2Phone connections.
Click Picture below to Sign-up/Purchase Net2Phone Account Balance
If you are satisfied and impressed with the savings you can make on overseas phone charges, simply click the N2P Sign up picture above. Fill in your particulars and follow the instructions. For detailed instructions on New Accounts and Top-up, click Here. You may have your Account Balance cleared on the same day depending upon clearance of payment..
Click Here for Easy Step-by-Step Instructions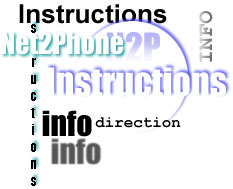 Buy Internet PhoneJACK
For sales information, please email to Phone4Net (Malaysian Representative)
---

For further info, send e-mail to: Sally tashly@cybergal.com
---

Internet 800 Search
AT&T Toll-Free Internet Directory
Telephone Directories on the Web
The Ultimate Directory - InfoSpace